"AIDS doesn't smell or taste / It doesn't care what race you are."
In February 1992, Salt N' Pepa released an AIDS-themed revamp of their seminal 1991 single "Let's Talk About Sex". Titled "Let's Talk AIDS," it's a catchy, no-bullshit public service announcement that tackles common myths. "It's not a black, white or gay disease," they rap, explaining that no one gets HIV from "kissing, touching, mosquito bites" or "toilet seats." The overriding message is loud and clear: get the facts and put on your gloves before you fuck.
Created as a public service announcement for an ABC News documentary, the song's lyrics are full of little-known information: "Mothers might give it to their babies in the womb / or at birth, don't be not a donkey and assume." It cemented Salt N' Pepa's legacy as a progressive rap powerhouse and achieved its goal of "educating the masses." "People use it to this day," Salt said in a 2017 interview with Rolling Stone. "They tell me all the time in their sex ed class…it's their theme song."
Back then, an HIV diagnosis was considered a death sentence. Governments had refused to fund research into a virus that was largely killing marginalized groups, until those groups began staging "die-ins" and taking the fight to their doorsteps. Traditional sex education was largely abstinence-based, creating the perfect climate for poor HIV education to thrive.
Activists have fought for funding and education, but their stories are often distorted. Even now, stories of HIV activism are whitewashed and told largely through a gay male lens. The virus has long been stigmatized as a "gay plague," but in reality the first person to die of AIDS in the United States was a black teenager named Robert Rayford, who died at St. Louis City Hospital. in 1969. Only decades later, his death was identified as AIDS-related. Not only have these misconceptions fueled homophobic stigma, they have also erased stories from entire demographics. As the death toll piled up throughout the 1980s, it was quickly clear that not only white, cosmopolitan gay men contracted it. Black communities around the world were dying off in droves, and particularly throughout the 1990s, the biggest names in hip-hop became some of their most vocal advocates.
The first mentions of HIV came mostly from independent rappers. In 1992, the Disposable Heroes of Hiphoprisy released "Positive", an underrated B-side told by a protagonist awaiting the results of an HIV test. Sweaty, panicked and introspective, the lyrics address the emotional effects of misinformation. By the early 1990s, it was clear that HIV was not just a gay virus, but there was still reluctance to talk about it frankly. Sex was portrayed as inherently risky, and stigma against drug addicts, sex workers and homosexuals in particular was absent. "Positive" alludes to the mental health spirals this lack of knowledge was causing: "Every day more paranoia / I'm reading about how it's transmitted / Some behaviors, I must admit / Who I slept with , with whom they slept."
In 1993, Immortal Technique — known for its activism around prison and immigration rights — teamed up with Jean Grae for a heartbreaking love song, "You Never Know." It's an epic track that spans almost eight minutes, but the emotional climax comes in the fourth verse, when it's revealed that her lover contracted HIV through a blood transfusion. Even more poignant is the fact that it was based on Technique's actual experiences. "You Never Know" was groundbreaking in that it humanized the victims of a virus so often erased from history. Technique spent most of his life in Harlem; a few miles away, on an island off the coast of the Bronx, lie unmarked graves filled with the bodies of AIDS victims. By immortalizing her lover, Technique made a political statement that those who lost in the Crisis deserve humanity.
Not all early mentions of HIV in American hip-hop were progressive. Here, context is key. Throughout history, black communities have been killed by medicalized racism. Black women were forcibly sterilized. Doctors refused treatment to black patients; therefore, research consistently shows that black respondents are less likely to trust healthcare professionals. In the late 1980s and 1990s, this widespread mistrust led to conspiracy theories that quickly became "explicitly racialized," writes Madeline Grace Polkinghorn in her dissertation on medical racism and AIDS conspiracy theories. "The belief that AIDS was a biological weapon designed to foment genocide against black Americans has become relatively widespread."
One of the main proponents of this theory was Frances Cress Welsing, a psychiatrist sampled on Public Enemy's "Meet The G That Killed Me." The one-minute track, featured on the groundbreaking fear of a dark planet, sums up the scaremongering of the time, but manages to shame drug addicts, sex workers and promiscuity in the process. "The release of these lyrics happened in an atmosphere about a year before Magic Johnson admitted to having contracted HIV," Chuck D explained in a 2010 interview with Billboard.
D's interview is a testament to how quickly attitudes changed when NBA legend Johnson opened up about his HIV diagnosis in 1991. Now known for "breaking the HIV stigma," Johnson's franchise, combined to his status as a successful heterosexual black athlete, has changed the public perception of the virus.
Soon, the biggest names in hip-hop were getting involved in HIV activism. In 1996, the non-profit organization Red Hot brought together heavy hitters like Fat Joe, De La Soul and Mobb Deep to America is slowly dying, a rap edition of the organization's all-star benefit album series. Arguably the strongest track is Wu-Tang Clan's "America", which tells the stories of black AIDS victims, and one verse specifically highlights the effects of AIDS conspiracy theories. "Damn it, he said, AIDS was created by the government," says the character, whose belief that the AIDS crisis is a government ploy to reduce the black birth rate keeps him from wearing a condom.
Notably, the album came right after Eazy-E's death due to AIDS-related complications, and the enhanced section of the album featured interviews about E, who remains the subject of conspiracy theories.
In the late 90s, rappers were treated like genuine celebrities. In 2000, Lil' Kim and Mary J Blige tapped into that stardom by teaming up for MAC's Viva Glam campaign, raising a record total of $4 million for AIDS research. Activists were also behind the scenes. In the mid-1990s, the club's promoter and founder of the new artist showcase Mad Wednesdays, Maria Davis, was diagnosed with HIV. As she struggled with the stigma, Davis began speaking publicly about the disease. Before long, she was taking to the streets of Harlem with a megaphone to advocate for safer sex and to raise awareness of the virus.
Global histories of hip-hop HIV activism are harder to track, but that doesn't mean they don't exist. Artists like Pelé Maree from South Africa and GML Zamba from Uganda have addressed HIV in their lyrics; in Zamba's case, Uganda's Ministry of Health used his anti-stigma track "Story Ya Luka" in a 2010 campaign for HIV prevention among young people. "Our campaign was a double-edged sword, in the sense that we used music and word-of-mouth campaigns," Zamba said in a 2019 interview with Maasaba Chronicle. "At that time, hip-hop was talking, and it was showing its strength in its impact on youth." Apparently it worked – Uganda is consistently cited as a success story in HIV prevention.
Zamba isn't the only artist campaigning for change. In 2012, Congolese rap group Black Power teamed up with the United Nations African Artists for Development for Rap Against AIDS, a project that saw them record an entire album on the subject. At concerts, they cross-promoted The Diamonds of Kamitugaa comic strip by artist Séraphin Kajibwami, collectively raising awareness of HIV and triggering a huge increase in the number of people tested by the NGO SOS-SIDA.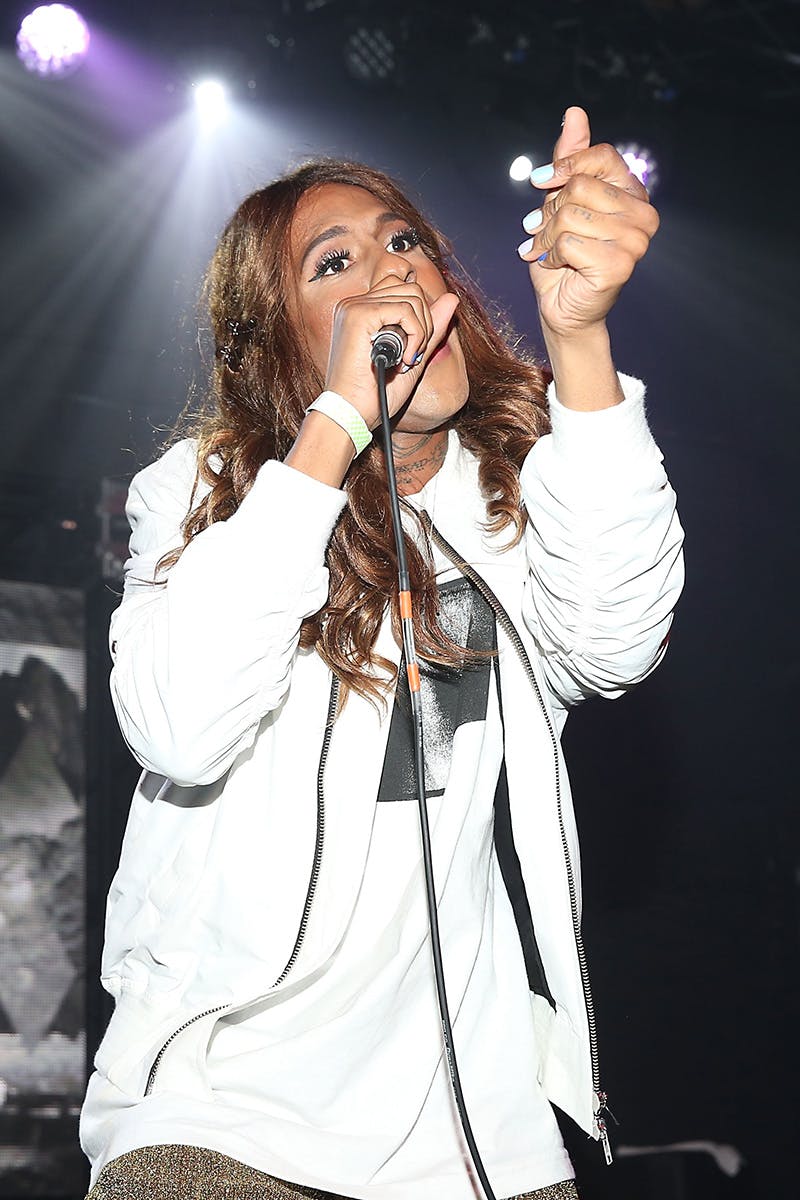 Research has come a long way since the early days of the AIDS crisis. It's no longer a death sentence, and continuing treatment can reduce viral loads to undetectable levels, meaning the virus cannot be transmitted even through unprotected sex. This progress does not exist in a vacuum. By making HIV activism accessible, engaging and even entertaining, hip-hop artists have played a vital but often overlooked role in making this progress possible. It's not all perfect, of course: DaBaby launched a wildly homophobic tirade at a concert last year, linking AIDS to homosexuality and falsely saying he can 'kill you in two or three weeks ". The rapper apologized, but the quick reaction showed there was less room for HIV stigma in hip-hop than ever before.
Now the lines of what constitutes hip-hop are being dissolved by avant-garde artists. In 2015, gender genius Mykki Blanco came out HIV-positive on Facebook, writing "fuckin' stigma and hiding in the dark is my real life". Blanco has continued to campaign for education and an end to stigma ever since. Lil Nas X has been another vocal champion of HIV activism, raising nearly half a million dollars for HIV prevention earlier this year.
Whether in the form of solidarity, awareness or fundraising efforts, black artists have made valuable contributions to the fight against HIV. As the impact and prevalence of queer rap talent continues to grow, this vital story of hip-hop advocacy looks set to continue to shine.