Following the announcement that Puerto Rican rapper Bad Bunny was the world's most broadcast artist on Spotify in 2021, today we learn that his colleague Reggaeton star Karol G was the world's most watched artist on Vevo this year.
Karol G tops the charts of the most viewed artists in 2021 in the world on the music videos platform with 3.11 billion views.
The Weeknd came in second, with 3.10 billion views worldwide.
Ariana Grande has reached the third highest number of views on the platform worldwide, with 2.47 billion.
In the United States, Lil Baby is the most watched Vevo artist of the last year with 770 million views, followed again by The Weeknd with 558 million views.
Doja Cat and Lil Nas X were two of Vevo's most popular artists, both appearing as newcomers to this year's Ten Most-Watched Artist list.
In the US and around the world, Lil Nas X took # 1 on the Vevo Engagement Chart, which ranks videos according to the highest number of likes, shares and comments on the Vevo network.
Montero (Call me by your name) was n ° 1, with Baby Industry with Jack Harlow taking second place.
Vevo attributed Lil Nas X's success to her "always creative outings and imaginative marketing efforts," such as her sneaker launch in partnership with art collective MSCHF.
The modified Nike Air Max 97 sneakers resulted in a six-fold increase in viewers of Lil Nas X's music videos, Vevo says.
Meanwhile, Olivia Rodrigo has also increased her audience eightfold to 357 million views in the United States in 2021.
---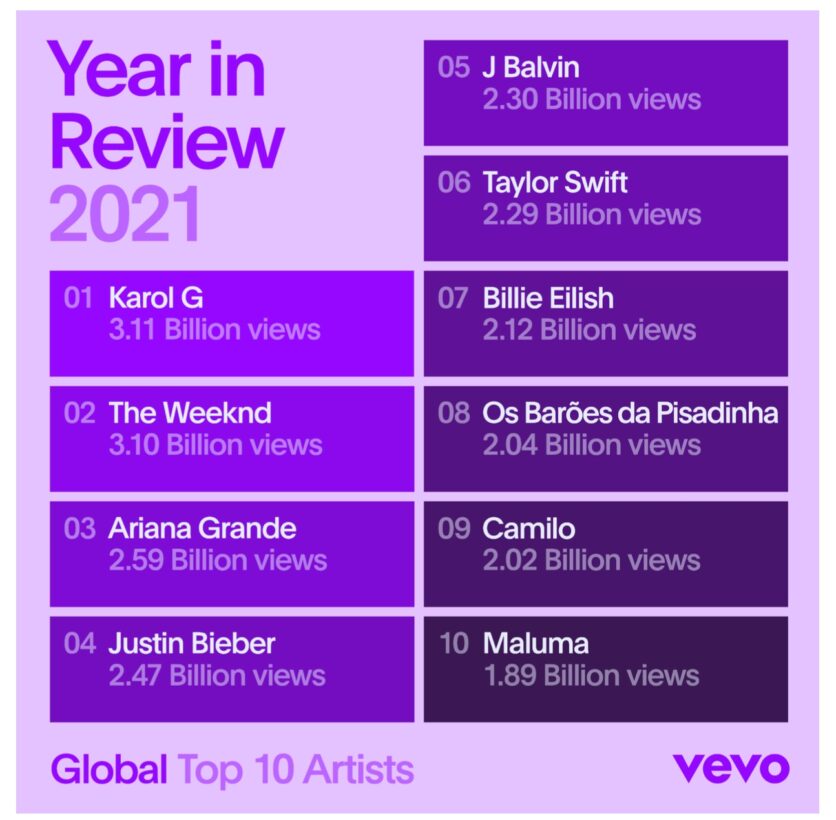 ---
Elsewhere, Vevo says he saw Adele's catalog evolve following the announcement of his new studio album, 30, with tenfold views, and his single Easy on me became the # 7 most engaged Vevo music video of 2021 in the United States.
Following the announcement of their first new album in 40 years, ABBA hits such as Dancing queen and Give me a chance saw a 170% increase in the United States in American views.
In November, Taylor Swift's catalog was also multiplied by 5 when it was released. Too good (Taylor version), the first 10-minute song to reach No. 1 on the Billboard Hot 100.
"In 2021, consumption and fan engagement with the music videos continued to provide a great deal of information about the music video's vital nature."

Alan Price, VEVO
Alan Price, CEO of Vevo, said: "Vevo is the destination of music videos for artists of all genres and career stages.
"Our cards feature both established stars, such as Taylor Swift and Future, and more recent names that have made headlines this year, like Lil Nas X and Olivia Rodrigo.
"In 2021, consumption and fan engagement with music videos continued to provide a lot of information on the vital nature of music video to drive, shape and respond to cultural moments.
"And, artists such as The Weeknd, Doja Cat and Ariana Grande have collaborated with Vevo to advance develop their visual catalog and storytelling through original Vevo content series, such as LIFT and official live performances. Music trade around the world